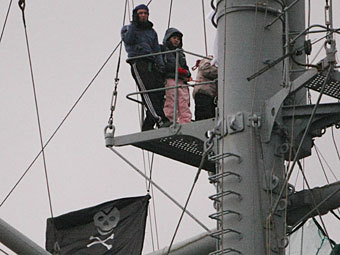 Two of the three activists who seized October 16 cruiser "Aurora", placed under administrative arrest.
It is reported "Fontanka.ru."

The corresponding decision was adopted in Monday, October 17 magistrate's court in St. Petersburg.
One of the invaders, was sentenced to ten days in jail, the second - five.
The case of a girl who climbed with them to the mast of ship, will be discussed later.

Three young men entered the cruiser "Aurora" on Sunday night under the guise of tourists.
Climbing the mast, they unfurled a pirate flag, burned and Fire for a few hours to get off refused.

In place of the police were called and rescuers.
Four hours later, the invaders got off the mast.
All three were charged with disorderly conduct.

Another five people were arrested while trying to climb the mast of another cruiser.
For information on when their case will be considered, is unknown.
Earlier it was reported that in addition to bullying them were going to be charged with holding an unsanctioned rally.

Earlier media reported that one of the young men climbed up the mast, "Aurora" was in the hospital, but at the State Ministry of the Interior in St. Petersburg have denied these reports.