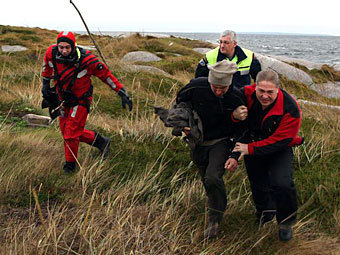 Arkhangelsk rescuers searched for the missing monk and member of Solovki monastery, accidentally found on an uninhabited island in the White Sea 25-year collector of algae from Solovki, the press center EMERCOM Russia in Arkhangelsk Oblast.
The man was released on sailboat at sea, caught in a storm and was on the island on October 1.

More than two weeks, the man ate and drank algae rainwater.
Following the discovery, he was hospitalized in moderate condition with doctors discovered he had signs of hypothermia, in addition, a man was severely depleted.

In the last three days of life on the island man almost did not pick out of the hole he had dug in the ground to shelter from the wind.
He left his hiding place, heard the noise of the helicopter was spotted and rescued.
"It is surprising that no statement about the missing person had been made, and no one was looking," - told Itar-Tass in emergency situations.

The search for the monk and the employee Solovki monastery began on the night of Oct. 14, after the Abbot told about their loss.
They came from the Bay Islands of Prosperity Big Solovki in the direction of Kemi day 13 October, and soon lost contact with them.
On Monday, October 17, was found dead monk who tracks second missing man has not yet been found.
Source:
Lenta.ru